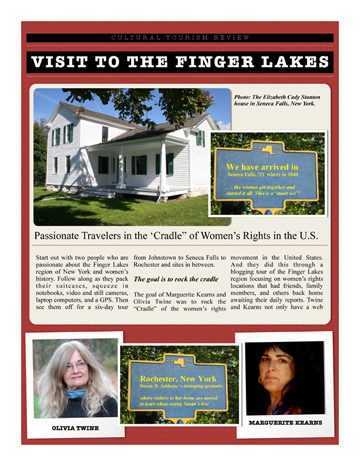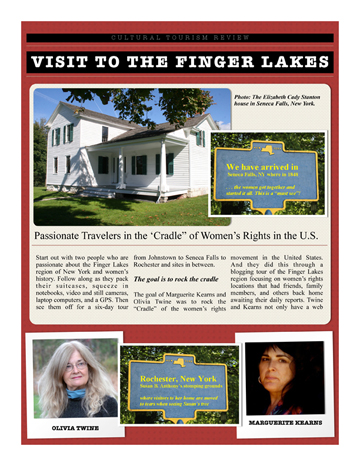 Article about rocking the Cradle in the Finger Lakes of New York State.
Last week I returned from Texas cotton country where my sister Winifred Culp received an award for her work with NearSea Naturals (sustainable and organic fabrics) from the Texas Organic Cotton Marketing Cooperative in Lubbock, Texas. Grandmother Edna would be proud. One hundred years ago Edna launched her "Better Babies" campaign on Long Island and who would have thought it would have been controversial? Some Long Island women thought it inappropriate to mix the issues of voting and everyday life. Not so, said Edna. And I'm seeing, more than ever, the inter-relatedness of issues when once compartmentalizing seemed so neat and tidy.
It's been a busy two months starting with the "Cradle" blogging tour in September. Olivia Twine and I are still blogging about our whirlwind trip through the Finger Lakes region of New York State. My article about Grandmother Edna's "Spirit of 1776" suffrage wagon was published in the fall issue of New York Archives. And Suffrage Wagon Cooking School moves forward to its second recipe and lesson to celebrate November birthdays starting with Elizabeth Cady Stanton's 198th birthday tea party (pull up a chair to the virtual party table) and a spread featuring traditional English scones brought to us by Chef Cutting.
The Texas organic cotton growers rolled out the red carpet for us in Texas this past week, and I learned more about organic cotton production than I could have ever imagined. Women as a voting block have many issues on their minds today, especially safety, as far as food, fabric, the air we breathe, and the water we drink. What we wear is just as important as the quality of food we put in our mouths. Logical? Cotton seems like such an American apple-pie product until you realize how much poison it takes to keep insects from eating the cotton ball in one gulp.
Other news items from Suffrage Wagon News Channel for November 2013. Stay current on new comic book about suffragist Margaret Sanger and updates on the upcoming film 'Suffragette" in the UK.
Follow the suffrage wagon with postings twice a week and a special newsletter four times a year? Where else do you get up-to-date news about the suffrage movement, as well as today's news and views and stories? New York History features my writing with Olivia Twine, as well as LetsRockTheCradle.com. We're gearing up to shake up the "Cradle" of the U.S. women's rights movement in upstate New York (the Finger Lakes district). How about joining us?