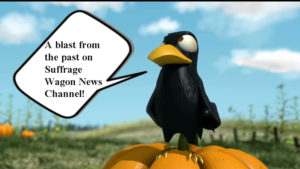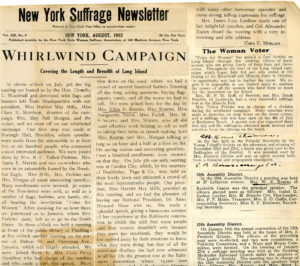 This article from a suffrage newsletter highlights grassroots organizing on Long Island during 1912. From the archive of Edna Buckman Kearns,this document shows Edna on the platform speaking for over an hour, along with selling memorabilia for fundraising.
It's one of many examples of the extensive campaigning during 1912 on Long Island (New York).
Suffrage Wagon News Channel has been publishing since 2009.
FROM MARGUERITE KEARNS:
I have been digging through my grandmother Edna Kearns'suffrage archive in order to write the story of my grandparents as I learned about it, starting at age ten, continuing into my 30s, to the present day. People love hearing the local angle.
The exhibit at the Suffolk County Historical Society about local suffrage activists, brought out large crowds. Some were interested in finding out if the "Spirit of 1776" will be exhibited again in 2020, the suffrage centennial observance for the United States.
In late April 2018, Huntington, NY unveiled a historic road marker on the main street commemorating when Edna Kearns and others traveled through Huntington in 1913.
For news and updates, follow the suffrage wagon at SuffrageWagon.org
We have been blogging about the suffrage movement since 2009. Through storytelling, we bring the past, present, and future together.