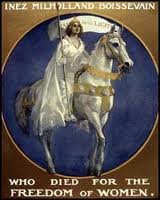 This audio selection is from Doris Stevens' book, Jailed For Freedom, a selection that highlights the Christmas day ceremony at the nation's Capitol in memory of Inez Milholland, America's suffrage martyr. The reading is by Librivox.
See other coverage about Inez Milholland on SuffrageCentennials.com. The centennial observance of her death is in 2016.
Happy holidays! Follow Suffrage Wagon News Channel on Facebook and Twitter. Quarterly newsletters just by signing up. Join the conversation by commenting on the Suffrage Wagon blog. Stay up to date with audio podcasts and videos. Celebrate women's freedom to vote.