The book, "An Unfinished Revolution," is about a real family and how the members' voting rights activism is squeezed in between routines of domestic life. It's not easy. And the writing of the book has been stretched over a more than thirty year period.
WHY WAS THERE SUCH A MYSTERY ABOUT HER GRANDMOTHER EDNA?
The story begins with the author, Marguerite, at the age of ten. She can't figure out why no photos of her grandmother Edna are on view in her family home.
Penetrating the mystery of her grandmother Edna took effort, and finally the answer is right before her face. "It took me quite a while to realize the obvious," Kearns said in an interview with a reporter from the Philadelphia area.
"Family members hadn't processed the grief associated with Edna's death in 1934."
Marguerite Kearns said the bank foreclosed on the family home at Echo Dale during the The Great Depression, and many life changes came about that rearranged priorities. No grave marker identified Edna's grave at the Quaker burial ground in Plymouth Meeting, Pennsylvania. However, in 2020 a flat Quaker-style marker was laid over the location of the grave,
THE PERSPECTIVE OF A TEN YEAR OLD CURIOUS CHILD LAUNCHES THE STORY
The reader is drawn into a narrative that results in the author, Marguerite Kearns, spending decades tracking down the tales of her family and the dramas that reveal similar challenges of others, woven into the routines of a household devoted to bringing about women's right to vote.
RESOURCES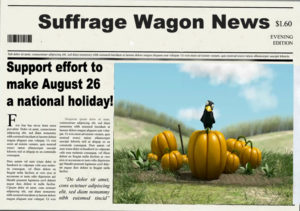 Find out more on Suffrage Wagon News Channel. We have been publishing since 2009.
Check out our sister digital platforms, such as SuffrageCentennials.com and Unfinished-Revolution.com
Keep August 26th in mind!