BREAKING NEWS FROM SUFFRAGE WAGON NEWS CHANNEL—
"Suffrage Wagons: The Winding Road to Voting Rights." Web program.
Presenter: Marguerite Kearns. Thursday, October 15, 2020. 1-3 p.m. Mountain Time. $15. All registration through renesan.org in Santa Fe, New Mexico.
The link to the Zoom meeting platform will be sent after you're registered with Renesan. The program on Thursday, October 15, 2020 will include a  formal greeting, background about Marguerite and her voting rights activist grandparents Edna and Wilmer Kearns, videos, questions and answers. All of Renesan's offerings during the fall of 2020, are online.
ARE YOU VOTING IN THE 2020 PRESIDENTIAL ELECTION?
Chances are that your grandparents, great grandparents, other family members and ancestors lobbied, picketed, agitated, and worked alongside the tens of thousands of US citizens who spent decades winning voting rights for women. The women's voting rights victory was one of the largest civil rights campaigns of this nation spanning from before 1848 to 1920 and beyond.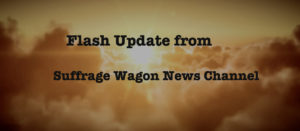 VOTE: It's a Right That Didn't Come Easy! on Vimeo.
HIGHLIGHTS OF THE OCTOBER 15th SPECIAL PROGRAM AT RENESAN
Learn how suffrage wagons were used in rural areas and cities in parades, demonstrations, and special exhibits. Discover why the New York State Museum features the horse-drawn wagon used by Edna Kearns in its 2020 exhibition. Learn how New Mexico is celebrating the observance of US women voting during the national 2020 centennial of women's voting rights. Across the nation, Americans are highlighting the passage and ratification of the Nineteenth Amendment to the US Constitution during 2020 by scheduling special events and celebrations. And perhaps without realizing it, you are involved in this long trail of struggle.
MARGUERITE'S BACKGROUND AND THE SPECIAL PROGRAM
Marguerite Kearns is a Santa Fe resident and the granddaughter of Edna and Wilmer Kearns, voting rights activists. She is a freelance writer, former journalist, and author of An Unfinished Revolution. This illustrated memoir and family history spans three generations in one family to illustrate intergenerational activism and the importance of grassroots organizers like her grandparents during the early women's rights movement.
GET A FEELING OF A SUFFRAGE CAMPAIGN WAGON IN ONE FAMILY
Horse-drawn wagons were used for various reasons during the early women's rights movement. They were pivotal in grassroots organizing, for public relations purposes, to reach men voters in rural areas, and to raise issues of symbolism and patriotic protest.
VISIT GRAVESTONE OF EDNA BUCKMAN KEARNS DURING OCTOBER 2020!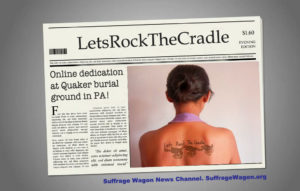 Gravestone Dedication for Quaker activist Edna Buckman Kearns, plus her parents May & Charles Buckman. Plymouth Meeting, PA (Germantown & Butler Pikes).
Online observance. October 1-30, 2020. SuffrageWagon.org/BurialGroundDedication. 505-982-0241 for more information.
ZOOM dedication service (live) on a specific date in October 2020 will be announced. Check this web page. Contact SuffrageWagon at Gmail dot com. Or call the above phone number for details.
Follow Suffrage Wagon News Channel. We have been publishing since 2009.