The suffrage campaign wagon that inspired Suffrage Wagon News Channel has been seen by thousands of visitors to the New York State Capitol since March of 2012 when the exhibit, "From Seneca Falls to the Supreme Court" opened. The news media coverage about this exhibit points out the degree of time and money spent opening up the capitol building to items previously kept in the state's "attic" or storage facilities. The Hall of Governors featuring oils of the state's governors has been a favorite with school groups, as well as New  York's homegrown tourists and those from out of town and around the world.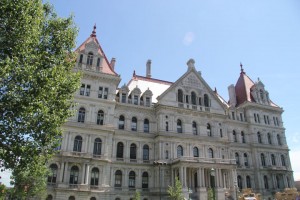 Video showing the suffrage wagon on exhibit at the NYS Capitol in 2012. LINK.
The emphasis New York State is giving to heritage and cultural tourism by Governor Andrew Cuomo and the highly-organized constituency of citizens interested in history and historic sites and anniversaries comes at an opportune time. New York State has rich resources when it comes to its role in significant historical moments and movements.
Below: The "Spirit of 1776" suffrage campaign wagon used by Edna Buckman Kearns on exhibit at the NYS Capitol in 2012.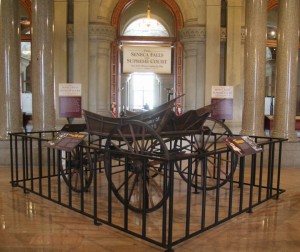 PAST ARTICLES IN SWNC: The story behind Grandmother Edna's suffrage wagon. Op-Ed wagon piece by Olivia Twine. New Video: "This Wet and Wrinkled Paper." More about Suffrage Wagon News Channel. Link #1. Link #2.  Film and video is how many people learn about the suffrage movement. Suffrage wagon storytelling at Hudson River Playback Theatre. Audio interview about Edna Buckman Kearns in Chick History series. Suffrage Wagon highlighted in ElectWomen magazine.  Albany, NY women's exhibit had the "Spirit of 1776." Grandmother Edna makes "New York History." Article in "Albany Kid," by Tara Bloyd about Edna Kearns, Serena Kearns, and the wagon. Art work of the "Spirit of 1776" wagon by Peter Sinclair. Suffrage Wagon videos. Check out the SWNC archive. "Spirit of 1776" suffrage wagon used by Edna Kearns on exhibit in Albany, NY for six months in 2012.
Images: From the collection of Suffrage Wagon News Channel.
Don't forget to subscribe to Suffrage Wagon News Channel.