by Marguerite Kearns
I didn't realize as a child the extent to which my grandfather Wilmer Kearns was different. He defied the social norms of his day by marrying Edna May Buckman, my grandmother. While she tended toward being respectable and "dignified," her best friend Bess was a different story. No wonder her father, Mr. Weiss, blew his stack when daughter Bess announced that she not only wanted an education, but she had no intention about getting married either. To me, Bess didn't fit into her clothes, just as she stood out in the world around her.
DEFYING GENDER EXPECTATIONS GOT BESS INTO TROUBLE
Bess was the type to be considered "mannish." She defied gender norms. He father considered her abnormal and strange. She didn't fit the profile of a young unmarried woman. Edna and Bess remained friends over the years in spite of the differences between the two women. So as my grandfather and mother told me about my grandmother Edna. I also found out about her best friend, Bess.
FOR MORE INFORMATION, CHECK OUT MY MEMOIR AND FAMILY HISTORY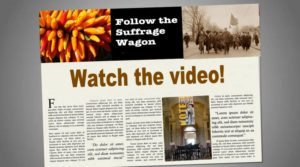 A Memoir by Marguerite Kearns—"An Unfinished Revolution" on Vimeo.
Suffrage Wagon News Channel has been publishing since 2009.