Let's Have A Toast For Women's Rights!
by Franco Salzillo
The American social reformer and activist Susan B. Anthony once said, "There never will be complete equality until women themselves help to make laws and elect lawmakers." We've made some progress when it comes to equality, but not without a struggle.
There's still a long road ahead, and both women and men must come together every day to fight for what's right. Here's a gorgeous drink recipe to toast for women's rights, because I can't think of a better reason to raise our glasses.
Toast Women's History Month with a lovely Berry Baby Bellini, a berry-scented and fizzy alcohol-free cocktail. This is a colorful drink that's both fun and memorable, the perfect concoction for our very special toast.
 Berry Baby Bellini Recipe  Serves 5, time 5 minutes
Ingredients 
1 cup assorted berries: blackberries, blueberries, raspberries, or similar
2 tablespoons of sugar
1 bottle of sparkling apple cider, alcohol-free
5 flute stemmed glasses or tall glasses
Directions
Add half the berries and sugar into a small bowl or container. Combine with a spoon and muddle until you get a smooth puree.
Add two teaspoons of berry puree to each glass and fill halfway with sparkling apple cider. Stir gently.
Add a few whole berries to each glass, top with cider, and serve.
About the author
Franco Salzillo is a food and wine writer, and a certified sommelier with ten years of experience in the hospitality industry. He's at his best when recommending toasts to Women's History Month.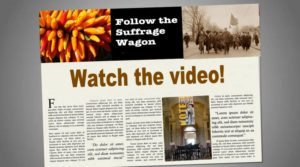 Vintage women's suffrage cookbooks are an important part of history! on Vimeo.
Honor the persistence and the determination of activists in the early women's rights movement!! on Vimeo.
June 2021 is fast approaching for the release from SUNY Press of "An Unfinished Revolution: Edna Buckman Kearns and the Struggle for Women's Rights" by Marguerite Kearns.
Suffrage Wagon News Channel has been publishing since 2009.