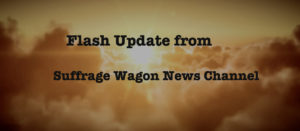 A women's skydiving team is introducing audiences across the nation to a different kind of support for the Equal Rights Amendment. For more information, see more about Project 19.
There is a great deal going on during 2020 about voting rights, and it has been in the works for years. Voting rights and equality are NOT recent flash in the pan issues. We have been working to establish visibility for the long and difficult struggle that has brought us to this point.
WHEN WILL THE NEW YORK STATE MUSEUM OPEN SO WE CAN SEE THE "SPIRIT OF 1776" SUFFRAGE WAGON DURING 2020?
The Museum Association of New York has this to say about state museum openings?
Museums will be included in  Phase 4 of NYS openings. When will this happen? When certain guidelines have been met. See statement from the Museum Association of New York (below).


Updates for early women's rights movement! on Vimeo.
When Suffrage Wagon News Channel started publishing in 2009, the ENTIRE historical voting rights movement was marginalized. There were, however, brave souls—regular folks, scholars and others—behind the scenes determined to bring the movement out into the open.
FROM INVISIBILITY TO A NATIONAL OBSERVANCE
Many people worked silently behind the scenes for years to change this. VOTING RIGHTS. That's what we stressed. In the beginning, hardly anyone paid attention except those in the know, again behind the scenes. We didn't whine or complain. We rolled up our sleeves and got to work. We were determined that the history of women winning the right to vote wouldn't disappear into the background.
VOTING RIGHTS ARE NOW UP THERE AND IN FRONT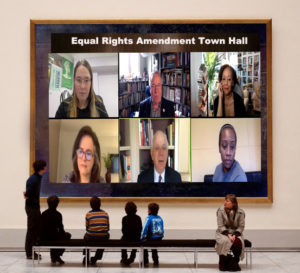 Women may be jumping out of planes to support the passage of the Equal Rights Amendment, but the response may have to be even more bold and present. A digital town hall sponsored by the ERA Coalition on May 13, 2020 prepared participants for a long and difficult struggle before the guarantee of equal rights for women will be included in the US Constitution. Expensive and lengthy litigation may be involved, as well as a decline in the degree of partisan politics relative to the issue. In 2023 US women will have been working on an equal rights amendment to the US Constitution for 100 years.
LET'S CARRY ON!
Contact Marguerite Kearns, anchor of Suffrage Wagon News Channel, by email: SuffrageWagon at gmail dot com. Owl Mountain Productions, LLC
HOP ON THE SUFFRAGE WAGON!
Follow Suffrage Wagon News Channel on Facebook and Twitter. Quarterly newsletters just by signing up. Suffrage Wagon News Channel has a video platform on Vimeo.
Meet your friends at the Suffrage Wagon Cafe. Follow SuffrageCentennials.com for news and views about upcoming suffrage centennials. 
"Choose it and Use it" is a video reminding us of how the past is linked to what we do today and its impact on the future.