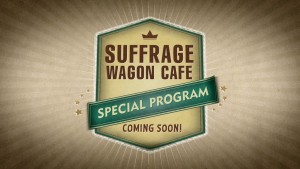 Happy holidays from the folks at Suffrage Wagon News Channel! on Vimeo.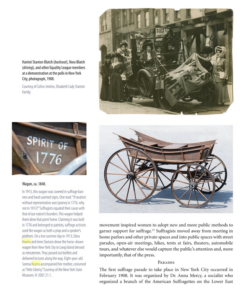 HOP ON THE SUFFRAGE WAGON!
Follow Suffrage Wagon News Channel on Facebook and Twitter. Quarterly newsletters just by signing up. Suffrage Wagon News Channel has a video platform on Vimeo.
Meet your friends at the Suffrage Wagon Cafe. Follow SuffrageCentennials.com for news and views about upcoming suffrage centennials.
"Choose it and Use it" is a video reminding us of how the past is linked to what we do today and its impact on the future.
Get a copy of the NYS Museum publication featuring the "Spirit of 1776" suffrage wagon from SUNY Press. It's a great gift idea. Published in 2017, the SUNY Press publication featured the "Spirit of 1776" campaign suffrage wagon, among many artifacts in a groundbreaking exhibition featuring 100 years of NYS women voting. The wagon will be on exhibit in 2020 at the New York State Museum in Albany, NY. We'll keep you posted about exhibition information. SuffrageWagon.org
Image: From the catalog, Votes for Women, Celebrating New York's Suffrage Centennial. By Jennifer A. Lemak and Ashley Hopkins-Benton, 2017. SUNY Press.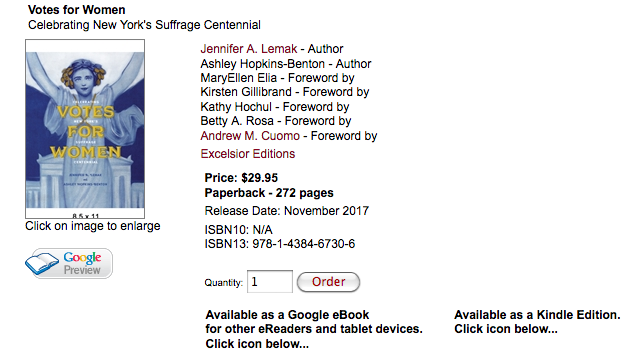 MEMBER:
Suffrage Wagon News Channel highlights part of the storytelling about New York State being the "cradle" of the women's rights movement in the US.
When Marguerite asked her grandfather Wilmer at age ten what it was like after meeting Edna, (who turned out to be her grandmother, much later of course). We have been at the Suffrage Wagon Cafe during the down periods when the storytelling and writing has calmed down enough to take a break from telling the ongoing love story of Edna and Wilmer. It's especially fun during a holiday season. With storytelling there's plenty of egg nog and punch, special cakes, and cookies.
Follow Suffrage Wagon News Channel and drop in for a treat at Suffrage Wagon Cafe. Our sister sites, LetsRockTheCradle.com and SuffrageCentennials.com, deliver the news that can't fit on one channel.
During 2019 there will be lots of activity as local, state, and national organizations (both public and private) prepare for the 2020 suffrage centennial when US women will have been voting for 100 years.