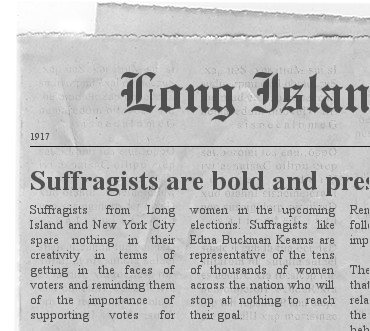 We continue with the untold story of the local wrinkle on the suffrage movement in New York State. As we move toward NYS's centennial of winning the vote in 1917, we'll see an increasing interest in this part of our history. The articles linked on this blog are primarily from the archives of Grandmother Edna Kearns.
The suffrage movement tapped the power of the press when its activists witnessed and reported on the news, much as citizen journalists do today. Writers and activists like Edna Buckman Kearns reported for the Brooklyn Daily News and local publications on Long Island. Edna also lived part time in New York City where her husband Wilmer Kearns was employed and her young daughter Serena attended a Quaker school. Edna gave her full attention to organizing Long Island for woman's suffrage. Her reports in the Brooklyn Daily Eagle gave considerable detail to the grassroots organizing efforts, of which this article and others demonstrate.
Elisabeth Freeman was among the suffrage campaigners, along with Edna Kearns and others who spread out to cover organizations where numbers of men would congregate, such as this Long Island firemens' convention. The suffs showed up with literature and made a visual impact. The community reactions and how the suffragists responded were documented in detail. This is another example of the influence of local papers and the suffragists' understanding of making sure they received the press coverage they deserved.
Back to contemporary times: I enjoy reading the press coverage of England's suffrage movement. The Brits' coverage of this time in their history is extremely creative. For example, there's a recent piece on a descendant of Emily Davison, best known for throwing herself in front of the king's horse. And an excellent article on how the sinking of the Titanic impacted the suffragette movement in  England.