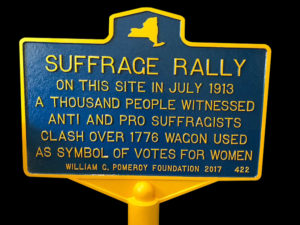 NEWS FROM THE FIRST WAVE FRONT:
First wave descendant Michele Jones Galvin will present a webinar about Harriet Tubman on Tuesday, August 21, 2018, 8:30 to 10 p.m. The $15 program "Aunt Harriet" is sponsored by the Matilda Joslyn Gage Foundation in Fayetteville, NY. Contact the Matilda Joslyn Gage Foundation for more information about the continuing webinar series.
Episode #2 of a New York Minute in History focuses on The Women's Rights Movement—From Seneca Falls to Today. Coline Jenkins, the great-great granddaughter of Elizabeth Cady Stanton is a guest. Check with wamcpodcasts.org The exhibit of the winning design for the Stanton and Anthony Woman Suffrage Monument has been extended to August 26, 2018 at the New York Historical Society, 170 Central Park West, NYC. Meredith Bergmann is the sculptor for the Stanton/Anthony statue planned for NYC's Central Park.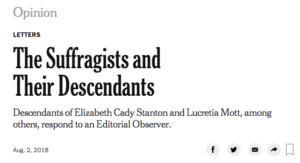 MORE NEWS THAN EVER
Descendants of suffrage movement activists recently responded to an opinion piece in the New York Times. 
"Researching New York: A Conference on New York State History" is scheduled for November 15-17, 2018 at SUNY Albany.
"The Woman's Hour: The Great Fight to Win the Vote" by Elaine Weiss is being adapted for TV by Hillary Clinton with film director Steven Spielberg's Amblin Television production company.
Are you planning something special for August 26th—Women's Equality Day? Schedule a visit to Huntington, NY to see the street marker.
HISTORIC MARKERS WILL MAKE A MARK IN COMMUNITIES AROUND THE NATION
There are an increasing number of historic road markers highlighting the women's suffrage movement on Long Island (NY), one of which is the marker now located in Huntington, NY in the business district. Dedicated in April 2018, the marker is part of the heritage road marker program sponsored by the William G. Pomeroy Foundation and it highlights the "Spirit of 1776" suffrage wagon used by Edna Kearns and others.
Consider a visit to Long Island where local activists are working on suffrage heritage trail from one end of the island to the other. The Huntington, NY historic marker commemorates the July 1913 day when antis and pros clashed during a street parade and rally. Edna Kearns drove the "Spirit of 1776″wagon when this confrontation took place.
IN OTHER NEWS:
Don't forget author Kenneth Florey's special request to help identify a photograph showing a wagon that to date hasn't been identified. He made a special appeal to wagon subscribers on August 1, 2018. Take a look at the image and contact him with any feedback or suggestions about identification. KennethFlorey@gmail.com
Are you among the millions of Americans who are descendants of the first wave of women's rights activism? Have you heard stories in your family? Have you followed up to find out more? Let us know. Send a message to—SuffrageWagon at gmail.com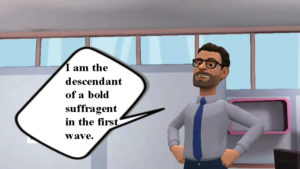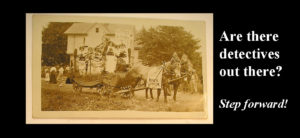 Follow Suffrage Wagon News Channel (SuffrageWagon.org) for news, views, and information.
If you'd like to be informed about upcoming suffrage centennials and special events, sign up for updates at SuffrageCentennials.com
LetsRockTheCradle.com is a web platform intended to inspire and inform.
Support August 26th becoming a national holiday. Plan NOW to celebrate 2020, the 100th anniversary of women voting in the US. How will this rite of passage be played out? Stay tuned.