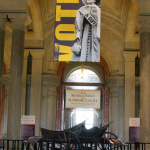 VIDEO: This posting is a reminder about where the "Spirit of 1776" wagon has been and where it is headed –to 2017 and 2020 suffrage centennial celebrations.
In upcoming elections, ask ALL candidates their thoughts on how the present day is linked to the long struggle for equality and justice. Reinforce how it is critical to get behind our upcoming suffrage centennials with funding and leadership. Emphasize that we're not satisfied with more volunteering opportunities and an endless series of bake sales.
If you're supporting the idea of the "Spirit of 1776" suffrage wagon on permanent exhibit, give the idea an extra boost with this video.
Music video about the "Spirit of 1776" wagon. A toe-tapping reminder of where we've come from and where we're going.
Follow the Suffrage Wagon with postings twice a week. Newsletters four times a year: summer, fall, winter and spring. Video, audio, news and views. Join in with conversation on the Suffrage Wagon blog.