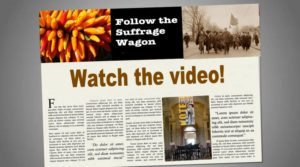 A special corn recipe inspired by Edna Buckman Kearns, suffrage activist! on Vimeo.
Farmers' markets have great fresh fruits & vegetables. Buy locally! on Vimeo.
FUN AND WOMEN'S RESOURCES FOR AUGUST 26TH
 FROM NATIONAL WOMEN'S HISTORY ALLIANCE —This sample page from the catalog is just one of the many resources and books available for events and celebrations of August 26th, Women's Equality Day. Follow Suffrage Wagon News Channel for updates on efforts underway to build support for the first federal holiday honoring women. Contact the National Women's History Alliance for more information.
Suffrage Wagon News Channel has been publishing since 2009.