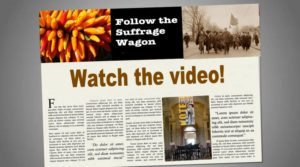 If Edna's best friend Bess was here, she'd be  promoting August 26th, Women's Equality Day. If not now, when?
We're building a support infrastructure in order to make August 26th a national holiday. No such recognition exists to honor women. We must complete the background work first.
In 2021, join us in celebrating at home, with friends, or your organization.
Here's our support of August 26th, Women's Equality Day. We're celebrating this year and signing a petition to register support. Listen and sign.
Being an Independent Woman in 1903 wasn't easy! on Vimeo.
Suffrage Wagon News Channel has been publishing since 2009.