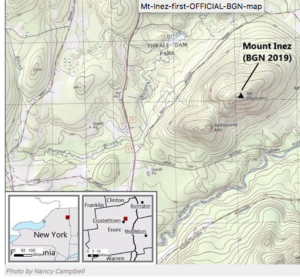 After a decade of advocacy on the local and regional levels of the United States, the nation is approaching 2020, the 100th anniversary of women voting. Beware of organizations and events that would have you believe that they're the official "go to" place for celebrating the centennial.
Volunteers have been building a support network for the past decade. When faced with the possibility that 2020 would come and go without recognition, hundreds of volunteers have been busy putting the foundation blocks in place for 2020.
One of the accomplishments (and there have been many) has been the name change of Mt. Discovery in upstate New York to Mt. Inez to honor Inez Milholland, the nation's suffrage martyr.
The name became official on the federal level recently. Here's a gift idea with Inez in mind.
Order your copy at the Women's History Alliance web store.
Follow Suffrage Wagon News Channel during 2020.