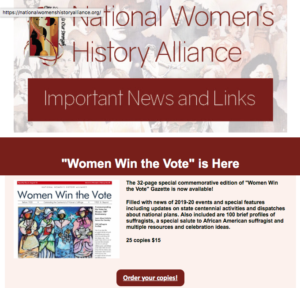 The Gazette from the National Women's History Alliance is out. This is a terrific resource for individuals, organizations, historians, schools, libraries, and more.
You may know the National Women's History Alliance from its old name, bouncing around for decades as the National Women's History Project.
And now with the Gazette publications of 2019 and into 2020, it's a comprehensive guide to what's happening in 2020 with the 100th anniversary of the 19th Amendment to the US Constitution. Get a single copy, or order them in bulk. They're perfect for spreading the word!
The movement to celebrate and reflect has been in the planning stages for years. And Suffrage Wagon News Channel has been part of it, all the way. We are in our tenth year of publication.