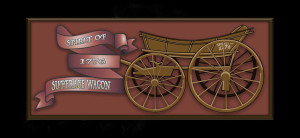 Radio interviews like the one with Bob Cudmore in April 2021 give highlights of upcoming book by Marguerite Kearns that will be published in June of 2021.
Wilmer Kearns faced the roadblocks Edna placed in his way. Otherwise there wouldn't be a Kearns family story.
Visit the road marker for the "Spirit of 1776" suffrage wagon on Vimeo.
Edna Kearns wasn't expecting resistance from those opposing votes for women when she and others rode in the "Spirit of 1776" suffrage campaign wagon down the main street of Huntington, NY in July of 1913.
Follow the Suffrage Wagon. We have been publishing since 2009.