The PBS documentary is making inroads in terms of educating the American public about the early women's rights movement. I have only seen a few clips from the production. However, the vintage footage accomplishes more than what piles of books and articles have been able to accomplish over decades.
Many people's eyes glaze over when I say my grandmother Edna Kearns was a Quaker. Once upon a time being a Quaker, or a member of the Religious Society of Friends, meant something specific. Edna Buckman Kearns, my grandmother, followed in the tradition of many Quaker women as active and visible participants in social justice movements. The PBS documentary puts this issue into accessible terms.
So does a documentary released in 2020: "Quakers: the Quiet Revolutionaries."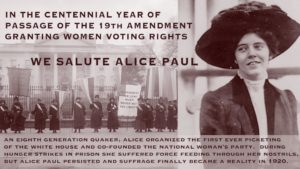 Images in this posting—a total of two— are from the Quaker film announcement. Sign up for their newsletter!

MANY WOMEN RAISED AS QUAKERS BECAME ACTIVE PARTICIPANTS IN THE EARLY US WOMEN'S RIGHTS MOVEMENT
Susan B. Anthony was raised as a  Quaker. So was Lucretia Mott, a well known Quaker minister and women's rights advocate. Alice Paul was raised as a Quaker and will be identified as such in the July 2020 PBS documentary "The Vote." My grandmother Edna Kearns was a Quaker. So was my grandfather, Wilmer Kearns, and their children. And I'm a Quaker too.
Unfortunately, the label of Quaker often doesn't often shed light on what a Quaker is and how beliefs about equality and nonviolence are expressed in Quaker spiritual practice. There are many misunderstandings common in the mainstream of public opinion. That's why I was under pressure from one corner of my family to only write about the positive, not the very human and predictable qualities of family members! I opted for the truth.
WAS EDNA KEARNS A QUAKER FIRST, OR WAS SHE A WOMEN'S RIGHTS ACTIVIST PRIMARILY AND A QUAKER  IN SECOND PLACE?
I came to the conclusion that my grandmother Edna was a Quaker first and her women's rights activism flowed from a spiritual source. Occasionally there is a reference in women's history referring to how Quakers "believed boys and girls were equal." Only occasionally does the researcher or author explore the deeper meaning of this—that a belief in equality is rooted in a spiritual practice of recognizing a common shared spiritual faith of "that of God in everyone." No exceptions.
SOME COMMON UNDERSTANDINGS OF QUAKERS AREN'T ROOTED IN FACTS!

The University of Pennsylvania, for example, calls its sports team members Quakers. I recently read about the successes of the "Lady Quakers." They are women sports team members. Another definition of a Quaker is someone who has become rich by selling oatmeal. Again—to my knowledge—the corporation of Quaker Oats is not and has never been associated with those belonging to or attending Quaker Meetings, another term for a church congregation.
A single column can't address the many aspects of Quakers in general (or my grandparents Edna and Wilmer Kearns) specifically. I am writing on this subject in order to say that in my grandmother Edna's case, her women's rights activism was directly related to her Quaker faith and practice.
QUAKERS BY GENEALOGY, AND QUAKERS BY WAY OF FAITH AND PRACTICE
Edna Buckman Kearns (1882-1934) was a member of the Religious Society of Friends by way of genealogy as well as faith and practice. She was a 9th generation Quaker from the Philadelphia area, descended from Quakers who arrived on the shores of the Delaware River in 1682. Her faith and practice was in the unprogrammed Quaker tradition. Edna and Buckman family members identified with the Hicksite interpretation of "The Light" of the divine as authority, as compared to those Quakers who depended more on their Bibles. It's challenging enough to say Edna Buckman Kearns was a Quaker. A broader explanation for her activism can be understood from a larger context.
VIDEO FROM "QUAKER SPEAK," A VIDEO SERIES PRODUCED BY FRIENDS JOURNAL, A PHILADELPHIA-BASED QUAKER PUBLICATION. 
Suffrage Wagon News Channel has been publishing since 2009.
REMINDER: DON'T FORGET THE PBS DOCUMENTARY, "THE VOTE," SCHEDULED FOR JULY 6 AND 7, 2020 AT A PUBLIC TV STATION NEAR YOU!
"The Vote" is an important contribution to the observance of the 19th Amendment to the US Constitution. Watch it.