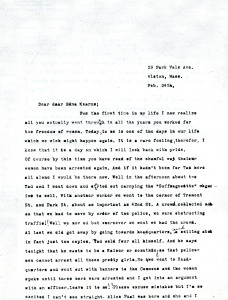 Marguerite's Musings:
Just found a letter from a Massachusetts friend of my grandmother Edna Kearns. Most likely it was written in 1917 because the friend talks about the arrests at the White House and how in a conversation with Alice Paul, Edna's name came up and Alice Paul called her "a peach."
Letters like this may not make a footnote in a scholarly paper or the bibliography of the movement. But it's a delightful find on this cold November afternoon during the "Night of Terror" observance when the talk is of the White House picketing and the women who ended up at the Occoquan Workhouse. Follow Suffrage Wagon News Channel for news and views of the suffrage movement.