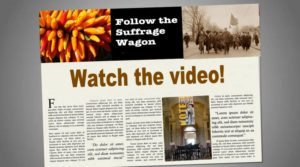 Happy holidays from the Kearns family! from Marguerite Kearns on Vimeo.
Get ready for the publication of "An Unfinished Revolution," a memoir and family history by Marguerite Kearns that's scheduled for publication in June of 2021.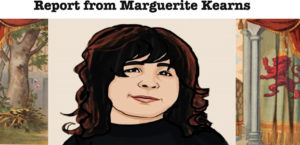 I've been blogging about my grandmother Edna Buckman Kearns since 2009. As the years passed, my knowledge of the women's rights movement doubled and tripled. And Edna, my grandfather Wilmer, and their first child Serena Kearns (my mother's older sister) have been the recipients of my attention. The "Spirit of 1776″suffrage wagon has been exhibited at the New York State Museum in 2010, 2012, 2017-2018, and in 2020.
JANUARY IS HOT TEA MONTH! HERMITAGE HOTEL IN NASHVILLE REMEMBERS WITH SPECIAL TEA EVENTS!

The Hermitage Hotel in Nashville, TN is astutely aware of its history and how the hotel became a central gathering location during the summer of 1920 when the issue of women's voting rights was before the state legislature. The hotel has been scheduling special tea spreads in honor of the state being the last to ratify the suffrage amendment to the US constitution.
A SPLENDID HOLIDAY GREETING FROM SUFFRAGE WAGON NEWS CHANNEL!
Follow the Spirit of 1776 suffrage wagon. We have been publishing since 2009.
And visit our sister site: The book by Marguerite Kearns: An Unfinished Revolution.