Books from Suffrage Wagon Book Shelf on Vimeo.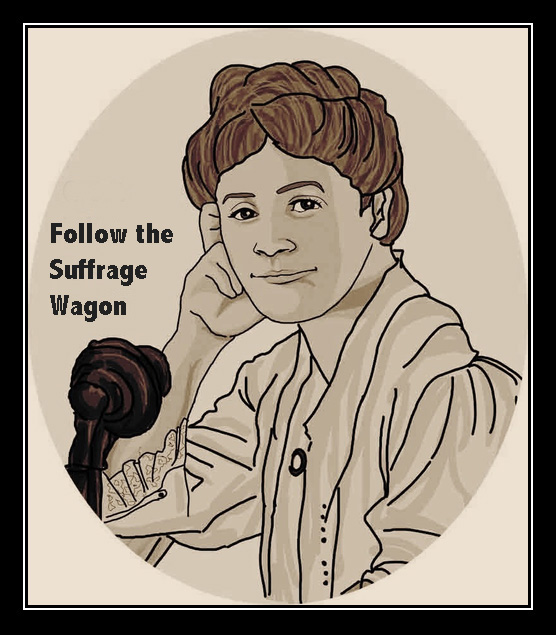 BOOKS FOR HOLIDAY GIFTS:
Take a look at the recommended books on the 2018 Amelia Bloomer List. It recommends excellent books for the various levels of reading skills, focused on girls and women. If you are puzzled about giving a gift of knowledge and inspiration, this is the place to start. Sure, it's getting late to be thinking about gifts, but there's still time to order.
MARGUERITE'S MUSINGS:
by Marguerite Kearns
Edna Buckman Kearns, my grandmother, was born on Christmas day in 1882. My mother Wilma told me how Edna hated having her birthday on Christmas. She said a child like herself missed out on attention when it came to gifts on her birthday.
For Edna, Christmas meant books as gifts. Each book contained short and potent messages from family members. Edna's gifts of books to her two daughters on Christmas past ended up in my hands as an eager young reader with the date on the inside cover and a Merry Christmas from "Dearie" which is how her daughters addressed her, and not "Mother." Oh, what a scandal it was in those days not to call a mother by her role. I loved the Louisa May Alcott series starting with Little Women, all the way through to Jo's Boys.
Christmas meant holly and mistletoe plus hand-made sachets of dried roses and lavender. It meant holiday tree candles burned on Christmas eve and the kitchen buzzing with talk of fruitcake, candied pineapple and citrus. Over the Christmas holidays children sat for hours with picture books and played with toys. My mother collected ceramic elephants, most of them Christmas gifts from Edna, Wilmer, Aunt Ina and Uncle Smith.
Holiday wrappings and decorations seemed hollow and empty on December 26th. When I was eleven, I couldn't hide my disappointment that I didn't get the plastic baby doll from the Sears and Roebuck catalog I wanted so badly. Of course, I never told anyone—except Grandmother Edna, who saw and heard everything from her heavenly perch.

Alcott, Louisa May. Jo's Boys, and How They Turned Out. A Sequel to "Little Men." Boston: Roberts Brothers, 1886.
This particular edition of the Louisa May Alcott books was part of the collection my mother Wilma gave me to learn how to read. Grandmother Edna gifted them to Serena and my mother Wilma on birthdays and holidays. This work by Louisa May Alcott, the sequel to "Little Men," is the only one in the series that hasn't ended up as a film. From a suffrage perspective the book is important because it reflects changing attitudes about women and their place in the world. The characters speak about temperance, dress reform, and suffrage which translates to a better understanding of the cultural context of our grandparents' and great grandparents' lives.

News & events at SuffrageCentennials.com
Suffrage Wagon News Channel has been publishing since 2009.
Vimeo channel featuring Suffrage Wagon News Channel. Treat yourself to a visit at LetsRockTheCradle.com, our sister site promoting action and interest in the upcoming 2020 Votes for Women centennial when US women will have been voting for 100 years.