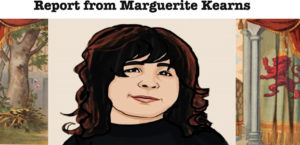 A TRIBUTE TO TOSHI SEEGER
Mother's Day has a special fundraiser as a tribute to Toshi Seeger whose behind-the-scenes contributions to Hudson River Sloop Clearwater in the Hudson Valley is the focus of a fundraiser on May 10, 2020.
SUPPORT FOR THE "SPIRIT OF 1776" SUFFRAGE WAGON
Toshi and Pete Seeger were supporters of the "Spirit of 1776" suffrage campaign wagon used by Edna Kearns (my grandmother) in 1913. They understood its importance as a symbol of women's voting rights and the continuing struggle to today. Their interest and support is one of the many reasons why the wagon is now on exhibit in the lobby of the New York State Museum today. The state museum is temporarily closed now, due to the pandemic. Stay tuned for updates!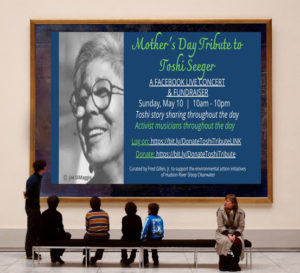 I WAS A PAST EMPLOYEE OF HUDSON RIVER SLOOP CLEARWATER
I knew Toshi Seeger when I was employed by Hudson River Sloop Clearwater as co-editor of the organizational membership publication for a decade during the 1980s. After most of the staff had completed work for the day, Toshi Seeger showed up at the office to work on the annual summer fundraiser, the Hudson River Revival. Now, due to the pandemic—Clearwater is facing closure and severe financial difficulties due to the closure of schools and a critical income producer for the organization.
MAY 10TH FUNDRAISER AS A TRIBUTE TO TOSHI SEEGER
An entire day on May 10th, from 10 a.m to 10 p.m. (EST) will feature storytelling about Toshi, as well as activist musicians. Consult the Clearwater web site for details.
MORE UPDATES FROM SUFFRAGE WAGON NEWS CHANNEL—DON'T MISS UNLADYLIKE 2020 FROM NOW TO AUGUST
UNLADYLIKE2020 is an innovative multimedia series honoring the 100th anniversary of women's suffrage that features extraordinary, unsung American heroines from the turn of the 20th century and the women who now follow in their footsteps.
WEEKLY THROUGH AUGUST 26th
Every Wednesday through August 26th, Women's Equality Day, watch a new UNLADYLIKE2020 short film on the PBS American Masters website: http://www.pbs.org/wnet/americanmasters/.
TRAILBLAZING WOMEN FROM ACROSS THE NATION
These are inspiring stories of trailblazing women from across the country who succeeded in diverse professions with grit, vision, and courage against tremendous obstacles. The series also includes an educational curriculum distributed by PBS LearningMedia. For more information, visit: www.unladylike2020.com.
Here at Suffrage Wagon News Channel we have been publishing since 2009.
We have added the Museum Association of New York to our list of memberships.