VOTING RIGHTS ARE CONTROVERSIAL NOW. .
Legislative attempts to restrict voting rights couldn't have been predicted by the many US residents who have struggled and even lost their lives in the struggle to vote. That's one reason why An Unfinished Revolution by Marguerite Kearns (SUNY Press, 2021) is an important resource for now and in the future.
SUFFRAGE CAMPAIGN WAGON BACK IN THE STATE MUSEUM WAREHOUSE AGAIN! 
The "Spirit of 1776" suffrage wagon used by Edna Buckman Kearns has been on continuous exhibition since 2017. The most recent exposure has been in the "Windows on New York" exhibition at the New York State Museum. Museum curators are concerned about the wagon's light exposure, and so the museum and suffrage activist artifact has been returned to the state museum's warehouse for a much needed rest.
We'll keep you posted about when the wagon will be on exhibition again..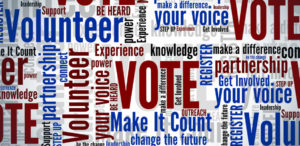 Feedback from Followers of Suffrage Wagon News Channel on Vimeo.