VIDEO: Suffrage Wagon Quarterly Newsletter coming soon. Are you ready to follow the Spirit of 1776? on Vimeo.
The Spirit of 1776 is a campaign being launched during Women's History Month 2015 by Suffrage Wagon News Channel to restore the women's suffrage movement to its rightful place in American history. We're persistent in our goal of inspiring, motivating, educating, and entertaining audiences about how we stand on strong shoulders. The suffragists were "there" for us. Let's be "there" for them by voting and becoming leaders in the world today.
If you haven't signed up for the quarterly newsletter, there's still time. There's an important announcement contained in the Winter/Spring 2015 edition.
Are you a parent who wants to educate your daughters and sons about the suffrage movement? Are you a teacher interested in content for your lesson plans? Historians, public officials, citizens, and students of all ages follow the Suffrage Wagon.
And don't forget the opening of the Suffrage Wagon Cafe on March 28th.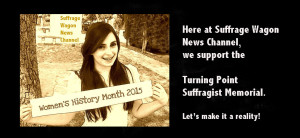 Follow Suffrage Wagon News Channel on Facebook and Twitter. Quarterly newsletters just by signing up. Suffrage Wagon News Channel has video platforms on Vimeo and YouTube. Follow SuffrageCentennials.com for news and views about upcoming suffrage centennials.