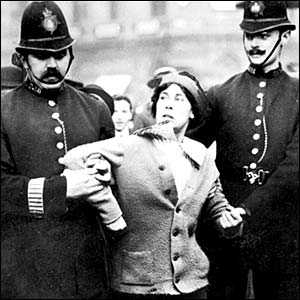 There came a time in the American, as well as the English woman's suffrage campaigns, when it became obvious that without bolder action, progress couldn't be made.
A BBC audio recording of nine minutes made in 1946 features suffragette Ada Flatman speaking about risking arrest for the suffrage campaign in England. This first-person account by a very proper English woman is not only a delight to listen to, but an insight into how the more traditional advocacy of lobbying and education hadn't worked in London, and the movement had moved to a new level of pressure. Recent BBC coverage of the English suffrage movement raises the question of whether or not the current British government should apologize for the acts of a past administration. The commentary shows the way in which history remains a present-day consideration.
March is Women's History Month. Read Suffrage Wagon News Channel by way of email, Facebook, and Twitter.