ACTION TO TAKE: Sign the petition posted on SuffrageWagon.org to support the nation designating August 26th (Women's Equality Day) as a national holiday! This is a special project of the National Women's History Alliance.
It isn't enough to announce the birthdays and related events of voting rights activists on the week or day of the observance. That's why I give heads up for such observances as Valentine's Day, Women's History Month, Convention Days in Seneca Falls, Women's Equality Day in August and more. Here's something about January each year.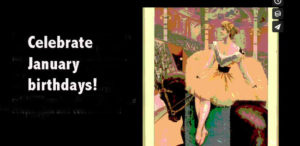 The month of January has important birthday observances in women's history that provide opportunities for celebrations. I'm inclined to celebrate the contributions of many, including Joan of Arc, Lucretia Mott, Sojourner Truth, Alice Paul, and many others. The effort to win the right of women to vote took generations of volunteers. Few were paid. It was a labor of love.
Susan B. Anthony's February birthday inspires observances across the nation. I organized a Susan B. Anthony party in February 2011 and won't be likely to do it again, only because I'll be busy with doing outreach for my book, An Unfinished Revolution. But the warm glow lingers.
Celebrate women's freedom to vote. Suffrage Wagon News Channel has been publishing since 2009. SuffrageCentennials.com has been persistent since 2013.
And in 2020, I launched Unfinished-Revolution.com.
It's the web platform for my book, "An Unfinished Revolution," a memoir about uncovering the ups and downs of a family of activists, my own.