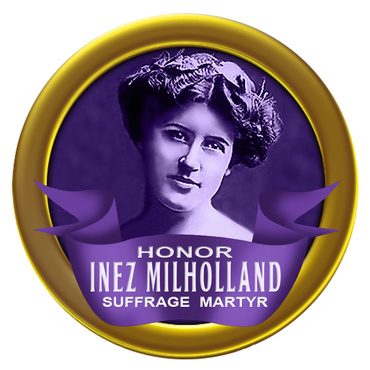 We're delighted to be partners with the Inez Milholland centennial. Why?
Because Edna and Wilmer Kearns knew Inez Milholland. Those who worked together to win voting rights interacted on many levels.
Suffrage Wagon News Channel is proud to be going the extra mile for the centennial observance of Inez Milholland, America's suffrage martyr.
Marguerite Kearns and Robert P.J. Cooney Jr. are directors of the Inez Milholland Centennial, a project of the National Women's History Project. Inez Milholland button design by Ray Lund.
Sign up for the centennial newsletter. Follow on Twitter and Facebook. Stay on top of events and announcements. Become a partner yourself. Wear an "Honor Inez Milholland" button and spread the word. Plan for an event or celebration that honors Inez.
Honor Inez Milholland Centennial (1916-2016) on Vimeo.
A star for Inez Milholland, America's women's suffrage martyr on Vimeo.
Visit our sister sites, SuffrageCentennials.com that highlights the Inez Milholland centennial during 2016, and LetsRockTheCradle.com.
If you have news about Inez Milholland centennial events and announcements, get in touch: InezMilhollandCentennial at yahoo.com