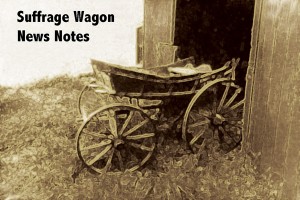 Stories about the women's voting rights movement: Meet Bess! on Vimeo.
Bess, my grandmother Edna's best friend, was never shy. In this video, she introduces herself and invites you to Suffrage Wagon Cafe during January, Hot Tea Month. I'm Marguerite Kearns, Edna's granddaughter, but I wasn't around yet to witness this scene.
HOW BESS AND EDNA GREW UP IN THE PHILADELPHIA AREA TOGETHER
Bess grew up next door to Edna in Germantown, a section of Philadelphia. Edna's family members were Quakers. Next door, Edna could occasionally hear Mr. Weiss criticizing Bess, his daughter, for her ideas about freedom. Bess didn't want to marry. Her best friend, Edna, wanted freedom and a family too. Occasionally other neighbors were aware of the difficulties when conflicts like these spilled out into the neighborhood.
Suffrage Wagon News Channel has been publishing since 2009.
Stop by our sister web platforms: LetsRockTheCradle.com and SuffrageCentennials.com