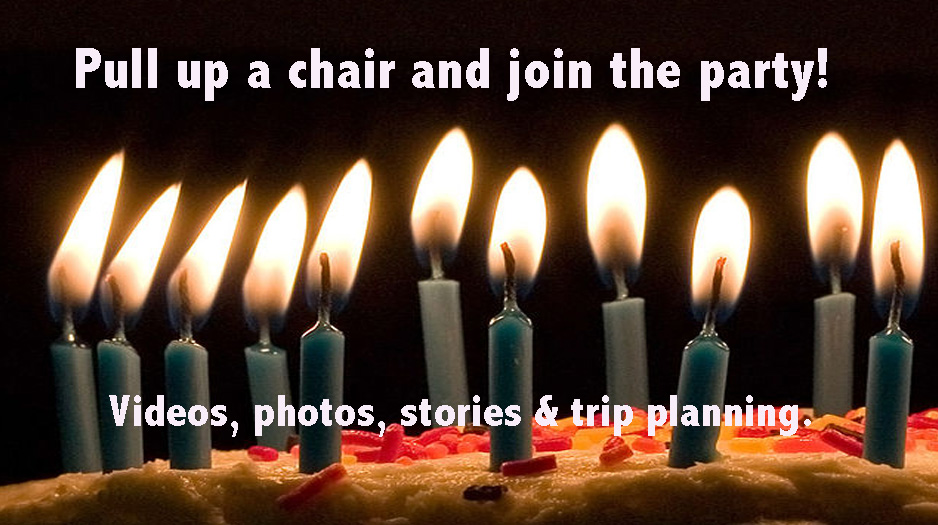 Elizabeth Cady Stanton was born November 12, 1815. This virtual party is for her. We are amazed at how she persisted in the work for equal rights so many years. Elizbaeth Cady Stanton caused many waves, especially her views on the 15th Amendment to the Constitution that extended voting rights to African-American men and not women.
The debate over the 15th Amendment tore the suffrage movement apart, and Elizabeth Cady Stanton was already controversial. Even within the suffrage movement, many of her viewpoints were considered too outside the box for the mainstream. But this is to be expected. She was determined to overturn a rigid social system.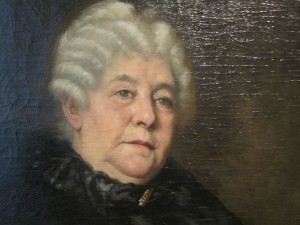 In 1848 she forged a path in the wilderness in Seneca Falls, NY and acted on an impulse to take action to launch a movement.
Now for the celebration. The virtual birthday party invitation has been sent out. Folks have been responding!
We're baking traditional English scones for the virtual birthday party for Elizabeth Cady Stanton. For one virtuak party we baked a cake from a vintage suffrage cook book, available online, by Mrs. Hattie Burr: LINK  PDF. The cook book has more than recipes. It gives a feel for the times and the importance of the suffrage issue for the women of America. The birthday cake cooks included Marguerite Kearns, Winnie Culp, and Tara Bloyd.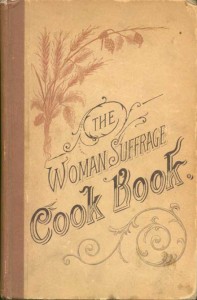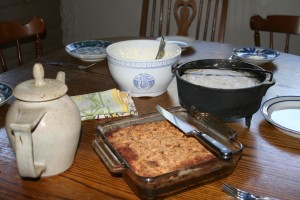 The Suffrage Spice Cake is in the Dutch oven to the right back on the party table. A carrot cake, for extra helpings, is in front. What a party we had in 2012, and it became a warmup for this year's celebration!
For another plate of goodies for the party, try traditional English scones with a recipe from Suffrage Wagon Cooking School.
Here's the recipe Chef Cutting used for English scones:
3 cups all-purpose flour
1/2 cup white sugar
5 teaspoons baking powder
1/2 teaspoon salt
3/4 cup butter
1 egg, beaten
1 cup milk
Preheat oven to 400 degrees F (200 degrees C). Lightly grease a baking sheet. In a large bowl, combine flour, sugar, baking powder, and salt. Cut in butter. Mix the egg and milk in a small bowl, and stir into flour mixture until moistened. Turn dough out onto a lightly floured surface, and knead briefly. Roll dough out into a 1/2 inch thick round. Cut into 8 wedges, and place on the prepared baking sheet.
Bake 15 minutes in the preheated oven, or until golden brown.
For those who haven't seen the documentary by award-winning filmmaker Ken Burns, Not for Ourselves Alone, it is about Elizabeth Cady Stanton and Susan B. Anthony –a classic work and worth showing at any celebration where people are hungry for something more after plates of homemade cake and sweets are cleared away. The Ken Burns documentary (at the time of this writing) is available for instant streaming on Netflix.
TRIP PLANNING: In 2013 Olivia Twine and Marguerite Kearns visited Seneca Falls, NY as part of a "Cradle" blogging tour. The "Cradle" of the women's rights movement in the United States is in upstate New York in the Finger Lakes region, and Seneca Falls is accessible from the New  York State Thruway, as are many sites on the tour. And while you're in the vicinity of Seneca Falls, don't forget Johnstown, New York, the hometown of Elizabeth Cady Stanton. Community members are squarely behind promoting this rich part of their history.
An audio message from Suffrage Wagon News Channel. Women's Rights National Historic Park. You can find out more at LetsRockTheCradle.com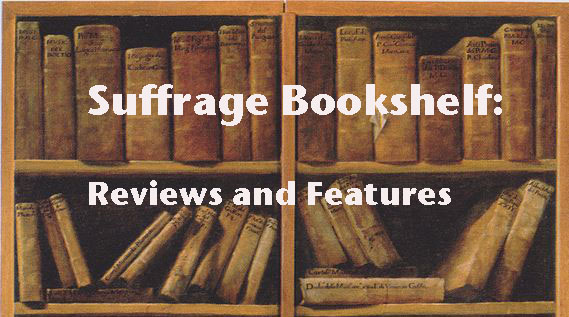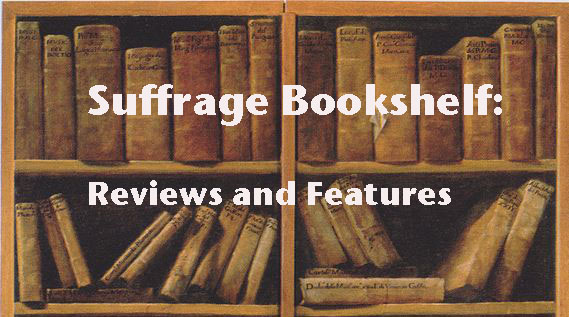 More about Elizabeth Cady Stanton.
Below: the classic photo of Elizabeth Cady Stanton (left) and Susan B. Anthony. Library of Congress.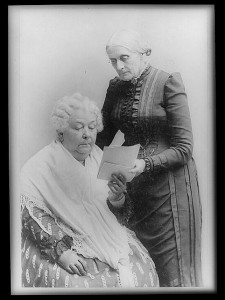 The Declaration of Sentiments featured at the Seneca Falls Convention, 1848.
Elizabeth's memoir is a free ebook. There's also free audio.
Ebook on the life of Elizabeth Cady Stanton.
Audible has an audio book on the life of Elizabeth Cady Stanton.
Free ebook of Elizabeth Cady Stanton's "The Woman's Bible." Link #1. Link #1a.
Recent book about Elizabeth Cady Stanton and Susan B. Anthony by Penny Colman.
Rutgers University's most recent publication of selected papers of Cady Stanton and Anthony.
Teaching about suffrage: resources and primary documents. LINK. PDF. 
AND IF THIS ISN'T ENOUGH:
For more about Suffrage Wagon News Channel. Subscribe.
Birthday Candles by Joey Gannon.