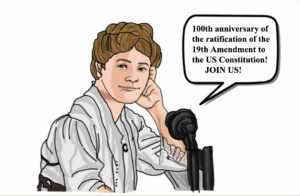 Photo: Edna Buckman Kearns (1882-1934)
Image from the family archive.
Email: SuffrageWagon at gmail.com
_______________________________
FOR IMMEDIATE RELEASE
2020 CENTENNIAL CELEBRATES
US WOMEN WINNING THE RIGHT TO VOTE IN 1920
TAKE NOTE— 2020 is an election year in the United States. And on August 26, 2020, the US population will be focused on the national observance of US women voting for the past 100 years.
"There are millions of descendants of the early women's rights movement, like me, in the United States. We're busy planning how to celebrate in 2020," says Marguerite Kearns, the granddaughter of Edna Kearns (1882-1934), a New York State women's rights activist. Edna Kearns is best known for her "Spirit of 1776" suffrage campaign wagon, now in the collection of the New York State Museum in Albany, NY, where the iconic vehicle will be exhibited in 2020, starting in early March through the summer.
THE UPCOMING EVENTS DURING A PRESIDENTIAL ELECTION YEAR
Statues will be unveiled during 2020 across the nation. Cultural events and celebrations will mark the centennial, as well as special exhibits, historic street markers, fairs, forums, parades, programs, conventions, theatre, musical performances, publications, and much more. Seneca Falls, NY and the surrounding upstate Finger Lakes region, is considered the cradle of the US women's rights movement. Seneca Falls, NY will be a popular cultural heritage tourism destination.
"Many people refer to an earlier stage of women's activism, from 1848 to 1920, as the women's suffrage movement," Kearns continued.
The observances during 2020 will be an opportunity to examine women's rights activism from many different angles."
SOME CALL VOTING RIGHTS ACTIVISM FROM 1848 TO 1920 AS THE FIRST WAVE
August 26th in 2020 commemorates the centennial of the ratification and passage of the 19th Amendment to the US Constitution in 1920. The amendment guaranteed US women the right to vote in local, state, and national elections. August 26th is also called Women's Equality Day, an observance set aside by the US Congress in 1971. The National Women's History Alliance has announced a campaign to make August 26th a national holiday.
A statue in NYC's Central Park will be unveiled on August 26, 2020. The Turning Point Suffragist Memorial is scheduled to open in Lorton, Virginia. An announcement about a national women's trail consisting of plaques, historic buildings, street markers, and more will be a headliner in the news.
Subscribe to Suffrage Wagon's quarterly newsletter.
Suffrage Wagon News Channel has been publishing since 2009.